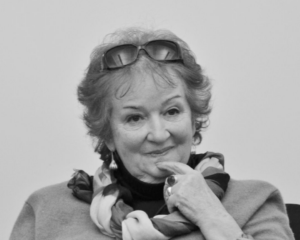 Yelena Khazan was born in Moscow, there she finished Moscow Pedagogical institute, specialized in biology and chemistry.
She taught in school, then she worked on her dissertation in the institute of children and teenagers within the Academy of Medical Sciences. IN 1994 Yelena immigrated in USA.
Already living here she managed to do something that always touched her soul — that's what her relatives were, where did they live, how did they dress up, and how did their consider arts in their living.
When a feel of financial stability came, poems started to be born — it was a new way for Yelena to express her emotions on a matter of what made her glad. She always researched on watercolors, looking for topics in nature and all the environments. Since 2000 she started to work on small form of sculptures – together with Eugenia Rozensvit ; they worked on a new trend in sculpture, combining ceramics with clothes (dressed-up ceramics) they've created whole gallery of images of Jewish settlement people.
Yelena was one of the most prominent participants of the "Memories of Jewish Settlement" exhibitions. This exhibition was conducted in different organizations including Queens Y, JCRC ,UJA federation , "Foksbine"(Yiddish National Theatre)
They works caused unbeatable interest along with the warmest feelings of viewers.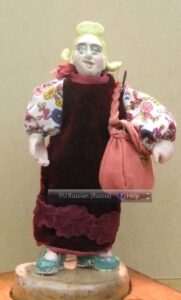 Matchmaker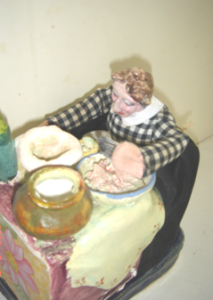 Stryapukha